Movement re-imagined: Vertical dance 'pioneers' defy the laws of gravity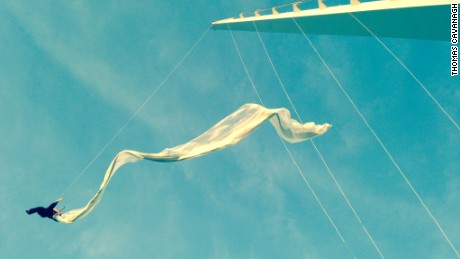 (CNN)They've danced suspended from the side of skyscrapers and performed on rock cliffs more than 2,700 feet up in the air — but they don't want to be called daredevils.
California-based dance company,
BANDALOOP
, have turned dancing as you know it upside down and sideways.
For more than twenty years their stage has been the side of buildings, bridges, cliffs and billboards and their warm-ups something more akin to rock climbing as the group have performed for audiences around the world.
"We're not daredevils, we just like to celebrate the human spirit," Amelia Rudolph, BANDALOOP's founder and artistic director, says.
"Especially in today's world, where there are so many sad things happening, I think it's really important to do something that instills a feeling of possibility," she continues.
They've already danced in more than 100 different sites around the world, including mountaintops in the Himalayas and Yosemite national park. To get to the latter they first had to climb for six days and five nights, before they reached their dance destination on the top of El Capitan.
Although Amelia doesn't necessarily like how audiences watch BANDALOOP with a nervous type of excitement, she says that it is that "triggered space" that makes the performance so impactful and emotional to watch.
"In that triggered space the audience is drawn into the experience and they're feeling what we are feeling as we are flying through the air. I think it pulls them out of their everyday life," says Rudolph.
Read more: http://www.cnn.com/2016/07/13/arts/bandaloop-vertical-dance/index.html